information
2018-07-31 05:15:00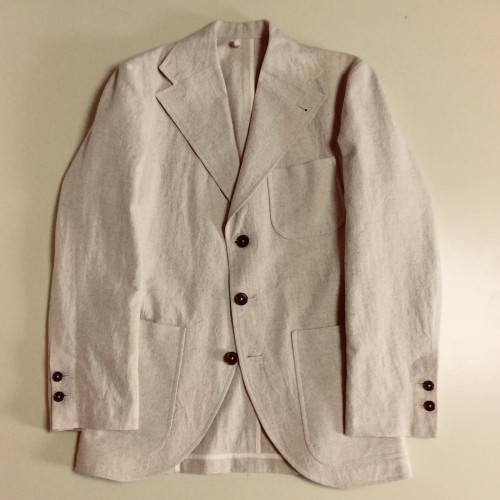 ワイドラペル(ラペル幅11.5cm)、ウェストからサイドベンツにかけて流れるようなシルエットが特徴です。
3つボタンのトラディショナルなスタイルは肩パットや芯地を省いた一枚仕立て、サイドベンツは20㎝に切られています。袖ボタンは2個の本切羽。
生地は軽く涼しげなコットンリネンのワッシャー。洗いざらしの自然なしわが特徴です。
カラーはオフホワイトに近いナチュラル。
・
This jacket features a wide lapel (lapel width 11.5 cm), a silhouette that flows from the waist to the side Benz.
Traditional style of three buttons is cut into pieces of one piece with shoulder pads and interlinings omitted, and the side vents cut to 20 cm. Two sleeve buttons are two main cuttings.
The fabric is a light and cool washer of cotton linen. It features natural wrinkles of washout.
Color is natural close to off-white.
#flaxdf
#orderjacket#オーダージャケット
#naturaljacket#ナチュラルジャケット
#washerjacket#ワッシャージャケット
#widelapeljacket#ワイドラペルジャケット
#classicjacket#クラシックジャケット
#handmadejacket#ハンドメイドジャケット